All aboard for The Train Tea Society!
Continuing its legacy of giving a free rein to theatre-makers at anywhere but traditional theatre spaces, Anywhere Theatre Festival has teamed with Flowers Theatre Company and the Queensland Pioneer Steam Railway to present a charming World War I story at the beautifully preserved Swanbank Railway Station.
The Train Tea Society is a heart-warming glimpse at the lives of some Ipswich women who dedicated themselves to the war effort in any way they could as the Great War raged on across the globe. History records that an Ipswich Train Tea Society was established by the women of Ipswich. They served refreshments to soldiers on troop trains passing through the town and sent rare treats and gifts such as cigarettes and cakes over to the Diggers at Christmas time.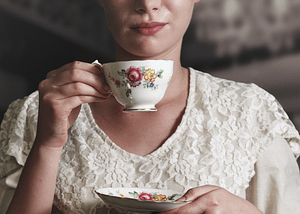 The founders of Flowers Theatre Company, Gabriella Flowers and Emily Vascotto, have a hunger for unearthing stories from Queensland's rich history. As evidenced by their 2015 sell-out season of The Mayne Effect which was staged in a beautiful Georgian Heritage-listed building, they are more than happy to plonk their audience right into the time and place of their story's characters and events. And in The Train Tea Society, a live steam train is all part of the action.
"Site-specific theatre is something we feel incredibly passionate about," says the show's writer and producer, Emily Vascotto. "We don't play it safe when it comes to a concept, script or venue. Staging a play at a railway station and choreographing a life-sized steam engine to move within the show was a risk – but one we had to take."
Vascotto says she was scrolling through old news articles online from the early 1900s when she first read about The Train Tea Society. "There were so many snippets of fundraisers and patriotic works it painted a clear picture in my mind of these strong, enthusiastic women. And we wanted to celebrate them. Ipswich has such a rich history, and the work of these women was no exception. One woman in particular, Mrs J.A Eliza Cameron was the president of The Train Tea Society. This meant that the baking of scones, biscuits and cakes were often held in her house, all of which were handed to troops passing through Ipswich by rail."
I imagine the Swanbank Railway Station will provide an amazing theatre set as the blackened engine puffs and snorts its hot, steamy breath, while the silhouette of a young woman stepping from one of the carriages can barely be seen due to the thick blanket of fog that swirls and rolls along the platform…